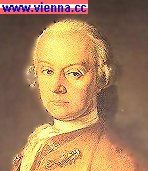 Leopold Mozart was born on November 14, 1719 in Augsburg / Germany. He studied theology 1737 to 1739 at the philosophical faculty of the Salzburger University, but he was more interested in music. He got a job as fourth violinist at the prince archbishop's court in Salzburg.
He married Anna Maria Walburga Pertl in the Salzbug cathedral on november 21, 1747, had seven children, from which only two survived, Wolfgang Amadeus and Nannerl. Pertl was the daughter of prince archbishop's secretary Wolfgang Nikolaus Pertl from St.Gilgen.
Leopold Mozart was an established viola-teacher, 1756 he published "Versuch einer gruendlichen Violinschule" (attempt of a thorough viola-school), publisher was Johann Jakob Lotter in Augsburg. 1759 he wrote a notebook "Pour le Clavecin" for his daughter Nannerl learning the piano play containing compositions of Wolfgang Amadeus.
Leopold Mozart worked as vice orchester master and court composer for Salzburg's archbishop. He died on May 28, 1787 in Salzburg. His grave is in St.Sebastians cemetery.
---

Home - Vienna - Photos - Music - Traveltips - Tours - Boattrip - Coffeehouse - Heuriger/Wine - Links - Search - About