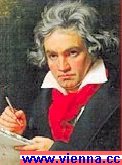 Ludwig van Beethoven is one of the greatest composers. Famous his works as there are Beethoven's fifth symphony, Beethoven's 9th, Beethoven's moonlight sonata, Beethoven violin concerto.

Read about Beethoven's life - the composer Beethoven and the man Ludwig van Beethoven - , Mozart and Beethoven, about his music and curious stories (sounds funny, but that are facts about Beethoven).

See Beethoven's hair as an expression of his soul. And so is his music.
---

Home - Vienna - Photos - Music - Traveltips - Tours - Boattrip - Coffeehouse - Heuriger/Wine - Links - Search - About